Here's a picture of three men doing a CBS radio 5 minute newscast from one of the third floor studios in Broadcast House. Not seen is the engineer, who is behind the glass in the control room. Paul Niven, CBS correspondent on the left, Pat Peyser "giving the watches"....and Lee Shephard waiting to say, "This is the CBS radio network."
This was hard work folks! Imagine being paid to do this!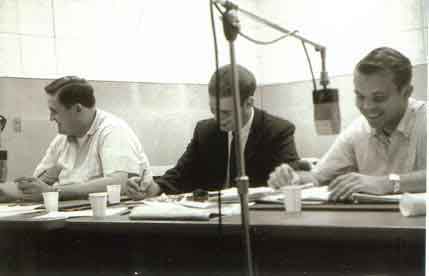 As you know, that tag at the end of the newscast was the local station's cue to "cut away" from the network and do their local commercials. It was known as a "system cue."
Do you know why it was called that? Well, I was told that the term originated during the early days of CBS.....when the tag was...."This is the Columbia Broadcasting System." The last word...being the "cue" for the local stations.
"And now, a word from WHAT's HIS NAME"
A lot of the on air people changed their names......for one reason or another. Don Richards was Don Resnick. John Douglas was really John Wilkinson. Jamie Bragg was born....Casper App. Lou Martin was Hugh Guidi and Lee Shephard was Ed Myers. Station management insisted that Ed change his name......because there was already an Ed Myer.....over at WMAL.
Ed Myers=Lee Shephard
DON HARRIS
1969 was a year of change for a lot of us. There?s a picture in my mind of a very poignant scene of Don Harris and me sitting in the fifth floor newsroom late one night reflecting on the fact that our careers at WTOP were about to come to an end.
I was pretty broken hearted. As Paul Harvey once said, ?As a young boy, I ran away from home and joined the radio.? I did too. I was 15?and although I didn?t run away from home? I definitely fell in love with radio.
For me, leaving WTOP was like a divorce. It soured me on the entire industry. But Don didn?t look at it that way. He said that he wanted to continue in the business, and was willing to go back through the small station route if he had to. As it turned out, he landed on his feet. NBC in San Francisco, to be exact.
I wasn?t so lucky, I thought. I had another fling with broadcasting at WMAL?and there were some fine people there, but my heart wasn?t in it. After that, I tried several other businesses, all of which were going to Hell in a handbasket?.like the film business.
I hadn?t thought of Don Harris is several years until one morning in 1978 I saw his picture on the front page of the paper.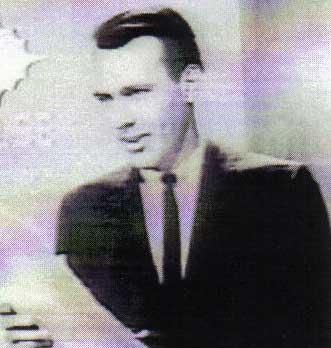 He had been shot and killed along with Congressman Leo Ryan in Jonestown, Guyana.
DON HARRIS News Organization: NBC Killed 1978 Location: Guyana Bio:Killed Nov. 18 with two other journalists and U.S. Rep. Leo J. Ryan at the Port Kaituma airstrip outside Jonestown, the home of a religious sect led by Jim Jones. Several hundred members of the People's Temple were either killed or committed suicide. An award-winning correspondent, he had worked for television stations in several U.S. cities and was stationed in southeast Asia for a year with his network.
INBOX
Lee:



????I have a copy of that 1954 Post ad with all the

performers and other staff, including Pick Temple's dag, Lady!



More to the point, when WTOP Radio(AM) celebrated its 40th Birthday in 1966,

I prepared a promo folder that had pics or Arch McDonald Sr, Eric Sevareid,

Eddie Gallaher, Arthur Godfrey...and others who were part of the fabled

history of Washington broadcasting, and WTOP in particular. I even have the

last surviving button that we had made that said...in large letters....THIS

BUTTON IS 40 YEARS OLD...and in smaller letters, to get your

attention...and so is WTOP Radio!!!



Incidentally, I always thought the first owner was the Ku Klux Klan, and

that WJSV stood for "Jesus Saves Virginia"...but what do I know.



Pete



Peter V.O'Reilly





-0-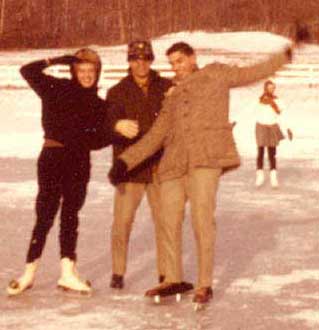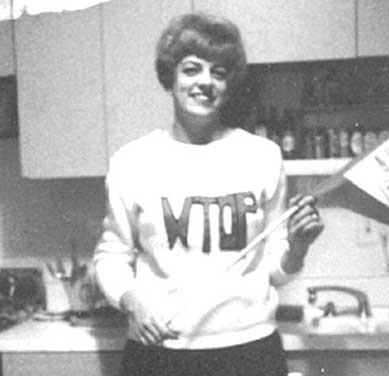 Lee, this skating picture was taken at Ranger Hal's farm in Drainsville. It is Doris, Bill Hedgpeth and big Duke Struck (ready to fall down.)



Doris Fausey



-0-





LEE, THANKS FOR SHARING THE PICTURES AND THE MEMORIES. IN LOOKING BACK,FOR ALL OF THE THINGS THAT I HAVE BEEN ABLE TO DO SINCE WE FORMED SEPTEMBER MOON,JUST ABOUT 20 YEARS AGO,NOTHING HAS MEANT SO MUCH TO ME AS KNOWING THAT I WAS PART OF SOMETHING THAT CAN ONLY HAPPEN ONCE IN A LIFETIME.



THE ONLY REGRETS I HAVE IS THAT I DON'T THINK ANY OF US REALLY APPRECIATED WHAT WE HAD OR WHAT WE WERE EXPERIENCING AT THE TIME----SO OFTEN (even today) AS YOU KNOW WE TAKE THINGS AND FOR THAT MATTER,EACH OTHER,FOR GRANTED.



I TOOK THE TIME THIS MORNING TO SHARE SOME OF MY FAVORITE "JOY BOYS" STORIES ON THEIR SITE, BUT I MUST TELL YOU THAT,AFTER A WHILE, I HAD TO STOP READING BECAUSE I COULD NOT SEE THE SCREEN THRU THE TEARS. SO MANY MEMORIES,SO MANY FRIENDS GONE



I AM GOING TO PRINT OUT THE ENTIRE THING AND READ IT LATER,THANKS AGAIN LEE FOR MAKING ME CRY.



Woody Robertson



-0-



WHAT A TERRIFIC SITE. THANKS FOR THE MEMORIES.



-Julian Barber
-0-
This is wonderful! And, it brought back so many memories. How can all of this been so long ago? Those were the days!



-Emily Biasini (Coombs)
-0-
Hi Lee:

What a wonderful website. I'm going to forward it to Dick Rosse whom you may

have known when he was with Mutual in Washington. Now retired, here, we have

lunch with a group of old announcers and actors on Wednesdays. We do a

little bit of old radio theatre and other stuff.

Sure wish I'd made it a point to be there. Next year, I hope.

Thanks again.

Best,

Paul Norton


I remember Dick's name quite well.....I used to listen to him all the time on Mutual newscasts. He must have been at TOP before my time (I came there in 1961). Hell, maybe he came after I left. I can't get used to being older than dirt.



Did you recognize Raiford? He's the one I told you about last year. He remembered you at TOP and asked about you.



If you have any pictures or memories you'd like to pass along......email them to me and I'll add them to the site. Tell Dick to do the same......the one criticism I've gotten....was that it was not comprehensive enough.......it doesn't "cover" enough territory. It was meant in a positive way....and it's true. I need input from others who were there at different times......with different slants......



I'm just screwing around with it....in my spare time.



...but secretly, outside of my family, radio was the love of my life. And WTOP was the apogee of my career. (I had to go to the dictionary for that damm word...but it fits.)



Thanks,



-Lee
Lee:



Just found your website. Very enjoyable photos and stories, which have brought back many memories. Lived in the DC area from the 1940s through the 60s. I remember the first time I visited Broadcast House. My classmates and I had the opportunity to tour the facility shortly after it opened. Everything we saw was quite interesting, especially the set for Pick Temple's Giant Ranch, and he came into the studio to greet us.



A few years later (1957) singer Jimmy Dean hosted a Saturday night summer series for CBS-TV, which originated from Broadcast House. I watched the show regularly and even attended one of the telecasts. I still remember the voice of his announcer on the program, but I have forgotten his name. I looked through all the pictures of WTOP/CBS personnel and found the name Don Gaynor. Do you know whether he was Dean's announcer on that show? If so, do you have any biographical information about him? Will appreciate your assistance. I've been in broadcasting myself for a number of years, doing announcing and various other jobs.



Thanks for your website.



Sincerely,



Jay Varnes
REMEMBERING JIM MEYERS AND RUBY LEE


I was surprised and delighted to discover your website. I was born in the District in 1941. My mother and I lived with my paternal grandparents in Beltsville during the war while my father served overseas. My grandfather was a violinist and part-time conductor for the National Symphony. He and I loved to listen to WWDC. In 1948, my parents moved to Greenbelt, and my father pursued (successfully) a master?s degree at the University of Maryland. Then we moved to southern Maryland. I became a tremendous fan of WTOP radio in the ?50s.
I have seen no mention on this site of my favorite WTOP program: Jim Meyers and Company. Jim was a popular jazz and supper club piano player in DC, and was often accompanied by his wife, singer Ruby Lee. The show started in April 1960, and was on the air from 10:00pm to 2:00am. The show was extended to 5:00am around 1962, and then went off the air in 1963 or 1964.
On a typical show, Jim would play a variety of cool, late-night jazz and Tin Pan Alley standards. Occasionally, he would play the piano and Ruby would sing. She tended to sing the same songs over and over again, and one of her favorites was How Did He Look. Jim?s song selection was culled from a fascinating collection of relatively obscure albums by people such as Lionel Hampton, guitarist Johnny Smith, Count Basie, and singers Julie London and Guy Pastor. One special favorite of his was bandleader Elliot Lawrence, and he used several cuts from one of his albums as the opening and closing themes.
I listened to this show when I was a student at the University of Maryland. It was lonely for me in college. I was very homesick. Jim Meyers and Company was a real security blanket for me during those years. In fact, Jim used to play requests for me, and we corresponded many times. He seemed like a very nice man.
Jim was very knowledgeable about music, and I learned a lot about jazz and traditional popular music at a time when rock ?n roll was the dominant style for my age group. To this day, my musical tastes reflect much of what Jim played on his show. In fact, I own many of those "obscure" albums he played, having acquired most of them back in the ?60s from that great old DC record store, Glen Music.
I joined the Air Force in 1963, and I never heard the show again. I lost touch with Jim Meyers. I live in Massachusetts now. I am 62 years old. Recently, I have learned to burn CDs from LPs on my computer, and I have assembled two long CDs of just songs I heard on Jim Meyers and Company. I was able to find several small articles and some photos of him and Ruby Lee in the Washington Post archives. So I downloaded the articles and photos and used them for the CD covers.
Does anyone remember Jim Meyers? If he is still alive, do you know how I could contact him? If he is deceased, do you know the whereabouts of any of his relatives? Also, do you know if there is any possibility that there are archived tapes of his shows? I would give anything to hear his show again.
Thanks for letting me reminisce about WTOP. Please feel free to e-mail me if you wish.
Joe Manning
manningfamily@rcn.com
Jim died about 3 years ago. I agree with Joe, Jim was a unique talent. His smooth delivery combined with his vast musical knowledge was unique.......plus the tinkling piano in the background....AND Ruby Lee's vocals added class to Washington's late nights. -Lee

(Incidentally, Joe Manning is a writer and recently wrote a column mentioning Eddie Gallaher, and listening to the radio

as a kid growing up in Maryland. Check it out.CLICK HERE )










Keep those cards and letters coming!
I've only informed a few people about this site, but as you can see...the feedback has been good. This is going to get better and more inclusive as more people "tune in".....and send me memories and pictures. I need some pictures and input from engineers...so email me at:
Lee Shephard
thanks...I sure am having fun! -Lee