THURMONT MARYLAND
By Lee Shephard
Each year....like clockwork...salmon swim upstream, the swallows come back to Capistrano, and ..........the old fogies come back to Thurmont, Md....for their annual reunion and luncheon at the Cozy Inn.
They're very special old fogies, though. As Buddy Belote, the group's guiding force for the last 13 of these reunions, says....we were sitting on the armchair of history during some of the most exciting and meaningful years of the 20th century. All of them worked for WTOP and CBS radio and television...in Washington, DC. Many who regularly attend these gatherings.......right outside Camp David....first dined at the Cozy Inn when they were covering President Eisenhower.....in the 1950's.
They spoke of the days of the Arthur Godfrey radio show....broadcast from his farm in Leesburg, VA....of the local radio soap operas broadcast from the Warner Building in the late 40's and early 50s...before WTOP moved into Broadcast House at 40th and Brandywine Sts. in NW Washington, DC.
WTOP was More than just a local station, mainly because it was also CBS ...in Washington. The network owned WTOP at one time, and when the Washington Post bought it...part of the terms of the sale were that CBS would maintain offiicies and studios at WTOP. So, the combination of a 50 thosand watt radio station, a VHS TV station, and a network presence in the "most powerful city" in the world...was potent indeed.
So it's no wonder...that allumni come from far and wide....to remember and celebrate.....when WE were a part of WTOP....the KING of the luminiferous ether!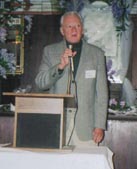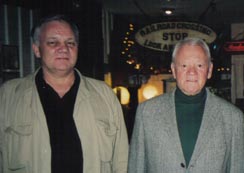 Bob Raiford came from North Carolina for this year's re-union. Raiford is featured each morning on the nationally syndicated radio show, John Boy and Billy..heard in over a hundred markets.
One of the things he is best remembered for is when he went to Vietnam.....and interviewed and tagged along with his son Ray...who was fighting in a front line unit in the middle of the war. Now THAT......was radio!
Ray came to the Thurmont event this year with Bob.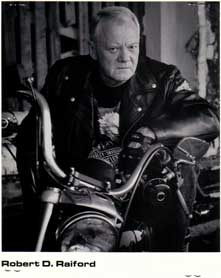 You can see what Raiford is doing now..complete with commentaries by loggin on to:
THE BIG SHOW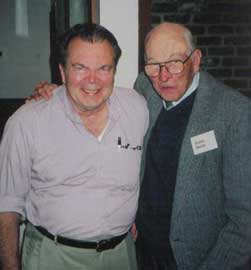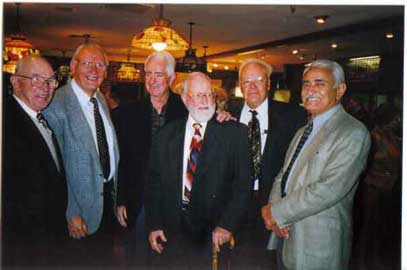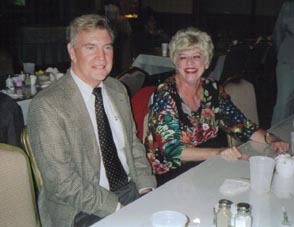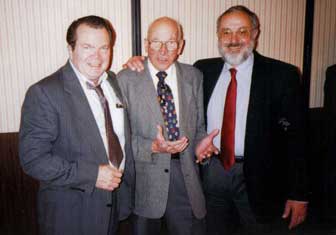 Paul Montebovie, on Buddy's left, is both part of the PAST,,,,,(he started at WTOP in the middle to late 60's)...and the PRESENT (he's still there!) I guess he's our youngest fogie.
OK....so I fudged a little. Three of those pictures were NOT from this year's event, but taken a couple of years ago. I was so overwhelmed at seeing folks that I hadn't seen for YEARS.....that I forgot to take many pictures. That's happened to me all my life. Remember all those celebrities that came to Broadcast House over the years......You know how many PICTURES I have of them?
NONE.
Damm it to heck! I remember when Ted Williams spent the entire afternoon in the studio with Don Richards and me......on the Sunday Sports Special (not the BEST...but the LONGEST show in Radio.....7 hours!) I remember shadow boxing with Mohammed Ali...in studio 11.......LBJ....coming to studio 11 to announce the end of a RR strike....Walter Cronkite doing his show in the third floor newsroom. Bob and Ray......doing shows in studio 12 (more about that in a later post. Appparently I'm the only one who remembers that series....it was right after Larry Israel took over....and changed everything.)
In my next life, I'm going to remember to stop talking.......and take pictures.
Thanks to Doris Fausey...who worked with Buddy this year to make Thurmont such a success...here's the list of folks who attended this year:
COZY RESTAURANT-WTOP REUNION-OCTOBER 16,2002
Gordon Barnes
Cleatus and Doris Barnett
Gene and Francis Beall
Buddy and Florence Belote
Harold and Margie Bloom
William Calder
George and Mary Dewees
Donna and Earl Dunmeyer
George and Despena Eptamenitis
Doris and Bob Fausey
Royce and Doris Fish
Emil and Hazel Franks
Lorie Gayman
Jerry Gayman
Stanley and Harriet Guttenberg
Peg and Jim Hargreaves
Donald Herr
Dale and Judith Kelsey
Bud and Helen Kerrick
Chuck Langdon
Kline Mengle
Ralph Mlaska and Guest
Peter O'Reilly
Theda Parrish
Kevin Rafferty
Bob Raiford
Bob Raiford's Son. Ray
Lee Shephard
Bea and Paul Stottlemyer
Ernie Tobin&Catherine Sollers
John and Marie Yeardley
Dave and Thelma Zarin
Tony and Betty Zukas
You may notice that my face keeps popping up in these pictures. The way to cure this problem...is for YOU to send in YOUR pics......You can email them to me at:
lee@ceoexpress.com
Look around....enjoy. This site will only get BETTER and BETTER....as more "old timers" chime in....with stories and pictures....these first ones are ones I've dug up....I can't identify all the people shown....or the dates......but it'll be a start.
"Return with us now, to those exciting days of yesteryear.........."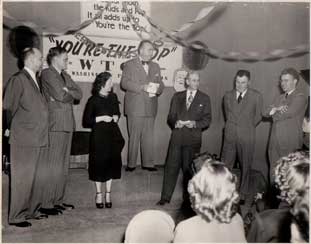 My guess is that this pic was taken when WJSV became WTOP. You're the TOP.......was not only a song....but a popular expression....(1943). So, WTOP was a very coveted call sign...for a station that was at the top of the dial (1500) back then.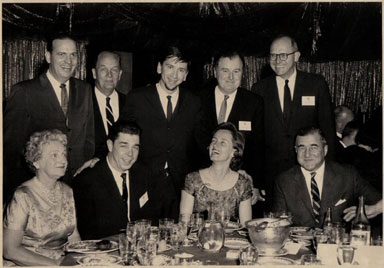 Our boss is in the second row, third from left. (Just kidding......that's
Gilligan
....from
Gilligan's Island
.)