Three time Emmy Award winning Washington, DC anchorman, Julian Barber, died of congestive heart failure at his home in Alexandria Wednesday, November 12. He was 75.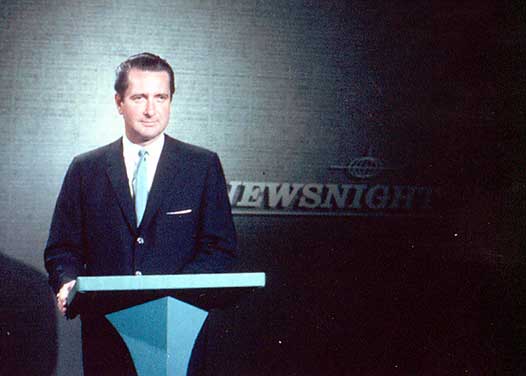 Barber was born in Charlotte, North Carolina and began his broadcasting career in 1949 at WGAI in Elizabeth City, North Carolina. From there he went to WAYS in Charlotte.
From 1950 to 1952, he served in the Korean War as an Army war correspondent for the Far East Network. In that capacity, Mr. Barber broadcast the first official messages on behalf of General Matthew Ridgeway to enemy Korean forces during the UN armistice negotiations.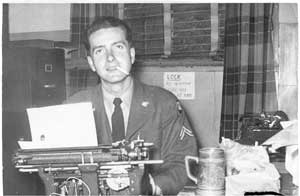 After receiving an Honorable Discharge, he accepted the job as news director of WGIV in Charlotte, NC and then moved up to a position as an anchorman at WSJS-TV in Winston-Salem, NC.
He came to Washington in 1956 and began a 15-year career as a television correspondent and anchor at WTOP-TV (channel 9) and WRC- TV (channel 4).
For 11 years Julian Barber was the top-rated TV news anchor in the Nation's Capital. He hosted Washington's first hour-long TV news program as well as hosting weekly interview programs, special event programming, documentaries, and political debates. He also made numerous personal appearances as Washington's most outstanding and best-known television personality.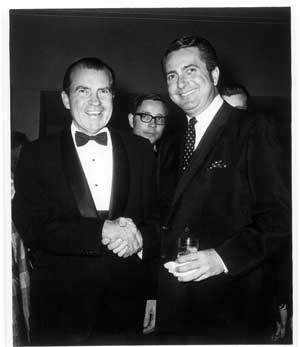 Julian Barber received three Emmy Awards from the National Academy of Television Arts and Sciences as top anchor.
After leaving Washington in 1971, he continued his work as a correspondent and anchor at WBBM-TV in Chicago. He returned to Washington in 1974 as an anchor for the Mutual Broadcasting System.
He served as Senator Harrison "Jack" Schmitt's (R-NM) press secretary from 1979-1983, then as a Special Assistant to the Assistant Secretary of Defense until 1990.
Barber retired from the Small Business Administration in 1995.
He is survived by five children, nine grandchildren, and one great-grandchild.
. A memorial service was held on Friday, November 21 at 2pm at Aldersgate United Methodist Church, 1301 Collingwood Rd, Alexandria VA. He will be buried at Arlington Cemetary at a later date. Julian's children are: Robert Barber, Marguerite Barber, Melanie Fagan, Tamatha Hickman and Justin Barber.
Julian (R) at Thurmont in 1999
He was one of the first and finest TV newsmen in the country. He was also the funniest man I ever knew.
By Lee Shephard
I first met Julian in 1953. He had just returned from serving in the Army in Korea. Prior to being drafted into service he was an up and coming announcer/dj at WAYS in Charlotte, North Carolina. Julian's evening record show was extremely popular among Charlotte's teenagers, because it was a "dedication" show...something new at the time. (You know, "this one goes out to Ann.....from Ed......who thinks she's cute...." etc.......)
When he returned from the war, WAYS said they didn't have a job for him anymore. (I think that was illegal, but Julian didn't fight it, he simply went to another station in Charlotte, WGIV, and got hired there as the news director. WGIV was started right after WW2 by a couple of Army veterans. The call letters stood for WE ARE GI VETERANS. So the little station was a perfect match at the time for Julian.
WGIV sounded big on the air, but it was a very small station, a thousand watt day-timer. The only place where there was room for the AP wire (remember those old clunky teletype machines?) was in the bathroom. So that's where they put it. Julian often said that It gave new meaning to "And now, a bulletin from the WGIV NEWSROOM.
"


It's not often that you get to meet your hero, much less work with him and get to know him. I was the high school DJ at WGIV when Julian joined the staff as news director. I had admired him from afar for quite some time, but to be in the same studio and watch him work, was a thrill this 15 year old radio wannabe....will never forget. My father got to know Julian too, because since I was underage I had to be driven back and forth to work. My dad once said to me that I would meet all kinds of people in the radio business, but that I wouldn't go wrong if I patterned myself after Julian Barber. And he wasn't just talking about broadcasting. Julian was a man of great character. And of great humor! It was rare when he didn't greet you with some kind of truly humorous story, or a laugh out loud slant on some mundane subject. And he was NEVER at a loss for words. I have seen him eloquently praise people he thought deserved it, totally off the cuff, bringing the audience almost to tears...without using a single note. Last time I saw him I told him that he was my hero when I was 15 years old.....and frankly, he still was. Julian's response was, "well that just proves that you don't have any better sense now, than you did 50 years ago."

Julian once told me that his love for broadcasting began when he was a young boy and his uncle let him sit in the press box at a baseball game.........while he broadcast the game. His uncle was a pretty good broadcaster too. His name was Red Barber.

-Lee Shephard



To be continued.............

A Newsman remembers "The King"
By David French

Lee,
Just a note of thanks to you for keeping "watch" near the gate. My emotions are raw from the losses we've had just since Thurmont. I'm sure the work you're putting in on this site has brought comfort to many more than you know about. I just want you to know about my appreciation.

As you may know, it was seeing Julian anchor at WTOP-TV9 during a visit of my Syracuse graduate school class in late 1965 that made me decide I "had to" work there. The logo then was a world globe on a rear-screen projector that filled the back of the news set. The theme music swelled in the darkened studio, Julian standing in silhouette, the lights came up with a whoosh and, his voice cracking ever so slightly, Julian said, "Good Evening, I'm Julian Barber." We all called him "The King," and rightly so.

One weeknight during Watergate I was frantic for a fact that I heard was in the afternoon paper. I looked at every desk in the newsroom as the large dark red typewriters clattered toward our 6 PM deadline. No paper. So, in desperation I yelled to the entire newsroom, "Where's the Evening Star?" Silence. Then, baritone voice cracking just like it did sometimes on the air, Julian said, "Here I am!" You know, Lee, these fellows who are passing now set a very high bar in the profession. Julian and Hal and Eddie Gallaher knew news, government and history. They understood economics, entertainment, education and human nature. They knew how to be fair while being accurate and thorough. Above all, they were gentlemen. As I look at my TV today I often think they were the last of the gentlemen broadcasters. I miss them. On this Thanksgiving I am grateful for the privilege of the work we shared.


A Director Remembers
By Steve King

Lee,

I was at a cocktail party in Georgetown this past Saturday night...I was
relating to someone that I had worked at WTOP a long time ago...with
people like Julian Barber, Tony Sylvester, John Douglas, Lee Shephard,
etc., and they said that they read in the newspaper that Julian Barber
had died. I didn't know...so, I went on the Internet and found your
tribute to Julian, and all the other news, pictures, and history about
WTOP and its alumni.

The news of Julian's passing makes me sad. It brings back memories of
all the good times, great experiences, longtime friendships, high
expectations...and decisions (beyond our control) that forever changed
our lives at WTOP.

I remember Julian telling me a long time ago that when he was working in
Charlotte, he often times used to buy a bag of popcorn and a bottle of
soda for dinner because he couldn't afford a real dinner. He told me he
ate a lot of popcorn before becoming an "Anchorman" at WTOP. I have
thought about that story many times.

When I came back to work at WTOP after my military stint in Vietnam,
Julian told me that he prayed for me while I was there. That has stayed
with me also.

Today, there is a different kind of broadcaster. They don't make Julian
Barbers anymore.

Steve King


The "DUKE" Remembers



I just ran across your web site and it was bitter sweet at best.

I knew about the recent passing of Hal Walker. I had spoken to Hal on and off over the years, with both of us working for ABC & CBS. Hal was a class act, both personally and professionally. I spent a very long few moments underneath a car with Hal during the riots following Martin Luther King's assassination. We were attempting to determine how to explain to the person shooting at us that we were just reporting the news.

I had not heard about the passing of Julian Barber. Stories about "The King" could fill volumes. "THIS is Julian Barber." He was perhaps the funniest man in TV news I ever met. I remember that beneath the, at times, somewhat bombastic exterior was a very sensitive, compassionate human being.

And then there was Eddie Gallaher. What a star he was! 53 years…not a bad run! I remember he was the definition of the word gentleman. He was extremely multitalented. Actually, contrary to the report I read, he was an analyst for the Washington Redskin games on CBS TV, Jim Simpson did play by play. Pat Summerall replaced Eddie on CBS for his first stint in the TV booth after retiring from the NY Giants. Eddie also did an "Entertainment Tonight" type segment on WTOP TV, perhaps before the birth of Mary Hart. "It's so nice to know so many nice people." ... Eddie was one of the nicest.

The names on your site bring back such fond memories.

Jim Silman – He and his wife Nadine were almost like second parents to me…..what a wonderful couple.

Peter and Alice Masters – My 1st job in television was working for Peter and assistant Joe Swanson as a stage hand, painting sets for The Jimmy Dean Show on CBS. If you haven't, read Peter's book Striking Back …it is a must read. I would go into the "double push" story with Peter & Will Jeffrey…but you had to be there.

Don Richards – A great announcer with movie star looks & a fabulous on Air salesman.

Buddy Belote – A nice guy whose daughter Melissa was a spectacular swimmer. He was always so very proud of her.

Hal Bloom – Another nice guy who, if I remember correctly, could have been a double for actor/dancer Gene Kelly.

Doris Fausey – Knew everything about computers when I was learning to use an adding machine. Her computer filled an entire room and did less than my 1st lap top. Remember the old punch cards?

Peter O' Reilly – What a salesman he was!

Paul and Bea Stottlemyer – Bea was a really lovely person & the Redskin games would not have been the same without Paul.

David French – A great reporter. WTOP was excellent at hiring great news personal.

Hal Stepler, - A voice that would move the earth

John Douglas – I remember "A cold mare's ass form Canada…or rather air mass…" like it was yesterday

Greg Oliver – A little guy with an enormous voice. Newsweek commercials and "D-E-L-C-O…Delso"…oops!

Jack & Philamena Jurey – Jack represented what was once great and now unfortunately forgotten concerning excellence in local news.

Kevin Rafferty – A really nice guy whose war stories were amazing.

Woody Robertson, Earl Dunmeyer, George Catron, Gene Beall, Royce Fish, Emil Franks, Kline Mengle, Don Herr, Don Horner and so many others.

And then there was Lee Shepard….a lifetime with a misspelled name! Sorry!

WTOP was so much more than a local TV station in the bottom of the top ten markets. It really was trend setting excellence in broadcasting in the infancy of the medium. I have enjoyed a pretty fair career, thanks to the people at the old Broadcast House.

I would love to hear from you.

Duke Struck

(Editor's note: Duke wrote the memo in 1961 that said, "the announcer we have come to know as Ed Myers will henceforth be known as "Lee Shephard" on the air." Not only was I stuck with that name....but I was stuck with that SPELLING.)

Woody Remembers

Lee, As I mentioned earlier today, I am just back in the office after almost three weeks.......and after reading about
Julian, I went into the blogspot thing and then there was the news (TO ME) about Hal Walker......so today, as I have
been preparing for meetings this week and thinking about all of the post/production stuff in the hopper, I was
moving slowly thru the day.....because every once in a while, I had to pause and reflect on those days when we were
all together. And I have been fighting back the tears and the choke in my throat.......it has been a very tough day,
for me.

I was especially "touched" to read (in the blogspot) the comments from Duke Struck......and the fact that he mentioned
ME...........I can honestly say that there were a few people that had a great influence in my career and each had some
connection that affected me in some way......and they were...Jim Silman, for giving me the opportunity in hiring on
in the Production training dept......Duke Struck, for mentoring me in the early years and being a close friend.....
Lee Shephard, with whom I have felt like having the Brother that I never had and for remaining a dear friend for
these many years and keeping in touch.......Julian Barber, for his quick wit, his friendship after hours and the joy it it was just to be in his presence........

We were all very lucky to be among a group that accomplished so much.......collectively and individually in this thing
we call Television and Radio.

The biggest regret that I have and I am sure that many of us have had....is the missed opportunity to tell each other
what we have meant to each other. Fortunately, for the ones that could be there each year.....the Cozy Inn provided
that forum to continue to share memories and good times on an annual basis.......believe me, it was agonizing for me
to know of these functions and the good times you were having....and not being able to be there.

As I was thinking about Julian........I remember ( as though it was just yesterday).......one afternoon follwing the
Newsday program.....I was standing outside of the Lobby talking to Julian and I think that we were waiting on some
Celebrity to come in for a pre/taping for Newsnight, and Hal Walker ( who was also on Newsday) comes walking out
and asked Julian "what's going on".........now he still had his "make/up" on from Newsday......which kind of lightened
him a wee bit..........Julian turns to him and says...."Hal just who the hell are you trying to fool anyway"......well as you
know Julian had the personality that would allow him to say the most outrageous things to people and get away with
it and most of the time, it would be a laughing matter, when the rest of it would have provoked a huge fight.

Lee, there was another name in the blogspot comments from one Steve King...who I had forgotten about, I also gave
him his first job in the business...........so if you could let me know I would love to be able to contact him and Duke...
after all this time. I would deeply appreciate it.........

You are absolutely right....this guy Dave Hughes has quite a library of information ON EVERYONE......Wow !!!!


Well it's a little after Seven and I have to go home, after a long day of remembering........Thanks!


As ever, Woody

(Woody Robertson is an owner/partner of September Moon Productions, one of the outstanding video production companies based in Detroit, Mich.)


ARE YOU READY FOR THIS?


Drum roll please.........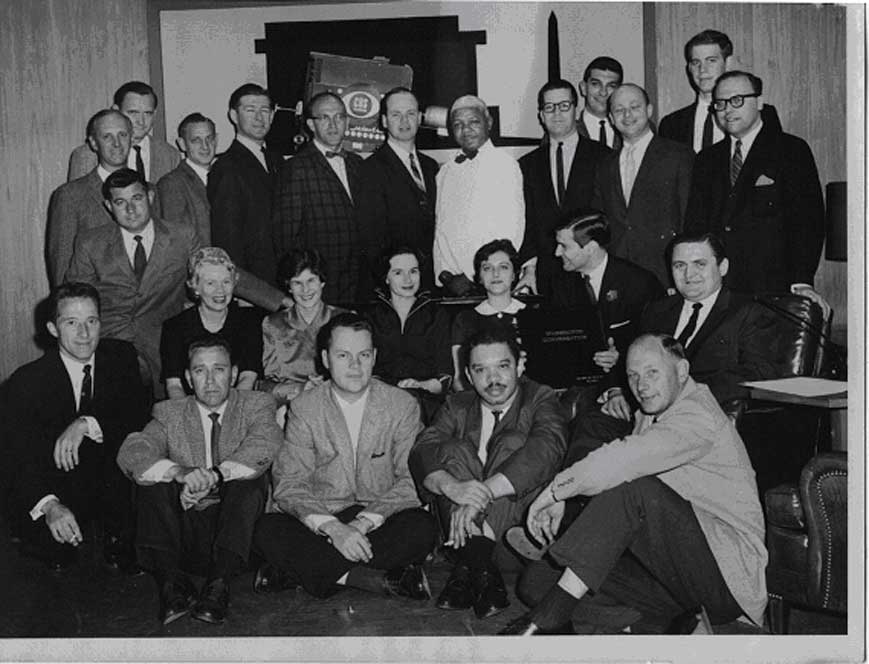 ......and THIS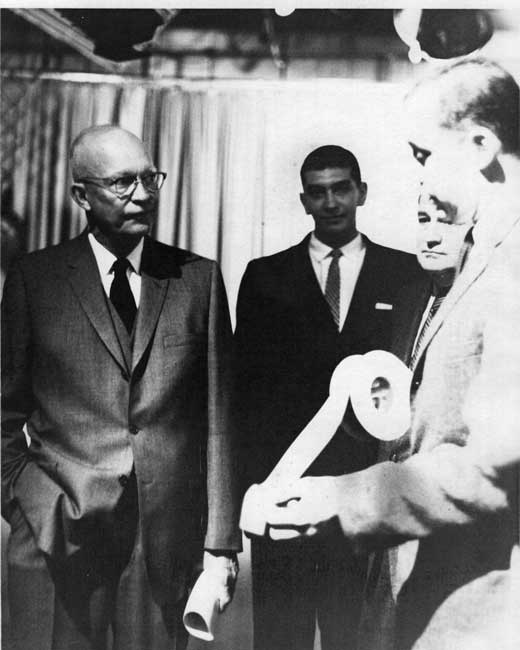 Duke Struck explains:




Lookout Lee has 5 grandchildren???? Where did the time go? Didn't you marry Linda, George Hartford's daughter? I am doing well. As you heard, I did have heart surgery some 23 years ago. I am certain to the surprise of many of the old WTOP'ers, they did find a heart and bypassed an artery. The surgeon & cardiologist at Mass General in Boston said the problem was the result of years of smoking. Needless to say, I became and remain a non smoker. Although, at the time the operation was relativity new, It was successful and I remain healthy.

I fell in love with Florida when I was 1st working at WTOP those many years ago. I used to bring my boats down for the winter while living in Connecticut and eventually moved to Lighthouse Point in 1986. It is a small town on the water between Fort Lauderdale and Boca Raton. I got remarried to a wonderful woman who was CBS news director about 12 years ago. We have an 8 ½ year old daughter named Sydney who keeps me young. While you fortunately have to go downstairs to work I commute to mostly New York & LA. For years my daughter thought I worked at the airport.

Seeing your web site brought back an enormous amount of memories about the old days. I?ll share some of them with you soon. I have been digging out some old photos which I will send you. The first was taken in Studio 11 after a CBS News show Washington Conversation in about 1961 ? 1962. It is a cast photo with the whole crew. I thought it may be interesting to put it on your web site & see how many can recognize the motley bunch.

The 2nd is a shot of I think the CBS News bureau chief (Lou Shellenberger?) showing new technology ? 2 inch video tape, to President Eisenhower. Also in the photo, George Hartford and some kid with a cheap suit & funny tie.

More to come.

-Duke Struck



....and HOW ABOUT THIS ONE!


Hey, Lee, I really don't know how to thank you for the memories. I came by your site quite by accident and spent most of the day laughing and remembering - it was great! In 1960 I was in the Wisconsin Restaurant (across from Sears) when Ann Reilly asked me if I was still interested in a job as the night copy-boy in the newsroom, despite having been rejected earlier due to lack of age 18 status earlier. I jumped at the chance and quit my positions as an usher at the Apex Theater (65 cents per hour) and in my family's clothing store - Dave Margolis (50 cents per hour) - so I could make the minimum wage - $1.00 per hour.
The newsroom consisted of Ed Ryan (the theoretical boss), Ann Reilly (secretary extraordinaire and the real boss), Jack Jurey (TV news editor and absolute boss), Steve Cushing (radio news editor and super nice guy), Larry Beckman (public affairs director), Frank Wilson, Roger Mudd, Julian Barber and red-headed Pete Dawson (the recently promoted "daytime" copy-boy who went on to become general manager of a TV station in Hawaii, as I recall). Down the hall were Dan Daniels and Arch McDonald (the original) who handled sports. Somewhere in the clouds was John Douglas, the "weatherman," along with directors Clark Pangle and Bill Somebody (who later went to ABC) and, of course, floor director Duke Struck (later promoted to assistant director, director, talk show director, football director, etc.)
Roger Mudd did the 6:00 radio news and 11:00 TV news, but there was no concept of being an anchor. News, sports and weather were all separate shows, with the talent in essence being the producer and owner of the time given to that show. If Roger needed an extra 2 minutes, he had to negotiate with Dan and John for the extra time. If it couldn't be worked out, the offended party went to Clark who would turn to Duke telling him to figure it out.
I did sort of notice a couple of "omissions" on the site. For instance, while it was widely reported that Hal Walker was the first African American network newsman, Hal was also the first Black TV newsman in the District, as I recall. And then there was Mona Campbell who, I believe, was the first female TV newsperson in the D. C. market. Oh, yes, Jack Jurey was the second TV editorialist in the nation, a station in New Orleans having had the first. I had to take a typed copy of the editorial every night to James Truitt, a Washington Post guy who lived in a swanky place in Georgetown.
I also had to take some papers each night to the DJ at the transmitter in Wheaton - Sam Donaldson. I worked at TOP off and on from 1960 to 1964 while finishing up college and law school. I remember many of the engineeers and executive types and look forward to visiting your site in the future.
Oh, yes, my mother, Rhoda Smith (age 87) also enjoyed the site since she said that many of the TOP people were customers at our family clothing store across from Sears. She also said that some probably still owe something on their bills - hahaha.

-Stephen Smith

Wow! Thank YOU for the memories, Steve!! ......and tell your sweet Mom that the check's in the mail. -Lee

.....and this from:


STEVE KING

Lee,

You asked for pictures....

The black & white picture was shot in Studio 12 at Julian's lecturn.
I am either standing-in for lighting, or pretending to be an anchorman.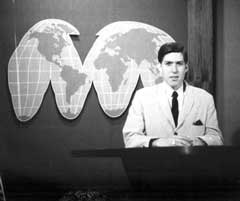 The color picture was shot in October 2001. I was in San Diego and
tracked down former TV director, Steve Silverman.
Lee, your website has filled a need, and put some salve on old wounds
that were inflicted on us all when we were slaughtered by the "Larry
Israel-John Corporan-Leo O'Farrell-John Baker fiasco."
Steve King
...............
Well, since you brought it up......................Duke Struck weighs in on that............as well as a nice tribute to John S. Hayes:

The fine WTOP people never fell off my radar screen. Unfortunately, when all our paths led down different roads many of us lost touch, and that is very unfortunate. Perhaps the way many of us left is a factor in that.
If you remember, John Hayes, the President of Post Newsweek Stations became the ambassador to Switzerland, and everything changed. I truly believe that none of us really appreciated the genius of Hayes. Under his management WTOP was a first rate, pioneering television station. Some great people were hired during the Hayes regime. Hayes was responsible for programming concerning the arts which was unprecedented. The National Gallery Symphony Orchestra programs from the East Garden Court of The National Gallery of Art were spectacular. It was a mixture of great music and art. Hayes also was responsible for telecasts of opera, and ballet - unique programming at a local television station.
Hayes was in the forefront in the hiring of minorities. People acknowledge his hiring of Hal Walker and Max Robinson, but what about Patti Searight. I wonder how many woman broadcast executives there were in the country when she was made WTOP Radio Program Director.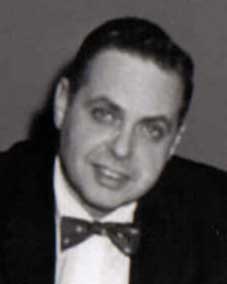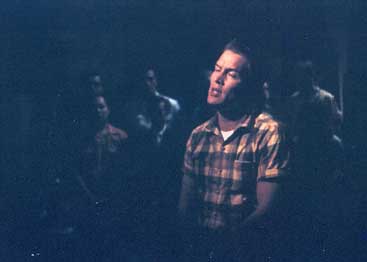 WTOP was, in retrospect, a great place to work. What an interesting bunch of people. When I went there I worked on the Jimmy Dean Show, I started working for Peter Masters, an Austrian Jew who fled the Nazis to England, only to return behind enemy lines to fight as a British commando. He could design unbelievable sets made out of cheap homosoat board that would rival the major scenic shops in New York & LA.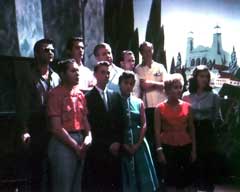 (A Peter Masters designed set)





I also worked for a wonderful talented Afro-American man named Joe Swanson. He had a position of authority at WTOP as did Hal Walker well before Martin Luther King announced his dream and before Rosa Parks refused to give up her bus seat.



Look back at the others working at WTOP during the Hayes years and look at the programs aired during that era. What a time it was!



To be in the same studio as Eric Sevareid, Howard K. Smith, Walter Cronkite, Paul Niven, Robert Trout, Roger Mudd and a host of other great journalists, and even in the company of Presidents Eisenhower, Kennedy and Johnson…it was mind boggling. But then there were innovative geniuses perhaps not so many remember.



WTOP News was as good a news operation as any in the country. As I said before, Jack Jurey represented what was once great and now unfortunately forgotten, concerning excellence in local news. He not only did the editorials everyone remembers, but was responsible for some first rate, journalistically excellent documentaries; Washington's Other World and Conversation with a King to name a few.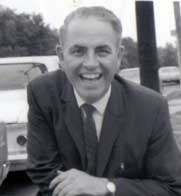 There was Ranger Hal Shaw, whose love for children was so extremely apparent as over a generation of kids grew up with The Ranger and Oswald Rabbit. How many of us had our hands up the back of that puppet while hiding in the cabin out of the sight of the kids? I believe The Ranger was taken off the air by the Larry Israel bunch and replaced with a clown show I am sure no one remembers.



There were people like Leo Pitts. When I was doing the Washington Senators Baseball games, I put a camera in center field. The tightest lens we had gave us a shot from about from 2nd base through the batter just like everyone else in the country had. Leo designed a way to put a Bushnell spotting scope on the camera which enabled us to get tight shots of the batters face and the catcher's hands seeing his signals. This was innovative in Sports coverage. Leo also designed a microscope lens for the camera. If you could think it, Leo could design it.



Then there were cameramen like Jack Waldren….still probably the best sports cameraman I have ever worked with. There was Johnny Mercer and Lamar Allison, two audio mixers as good as any today.



So many memories. Remember Norm Bailey? He was a true character. I remember the morning after JFK won the presidential election. We were setting up the old WTOP remote truck (which gave "low tech" a new meaning) outside of the Kennedy townhouse in Georgetown. Norm was barking out orders in his deafening manner. An upstairs window opened. There was JFK in pajamas. "NORMAN! Be quiet damn it. We are trying to sleep up here!"



Speaking of JFK, I remember us setting up for pool coverage in the oval office for a speech concerning Cuba. JFK came into his office through the secretary's office door. I was sitting at his desk acting as a lighting model. He excused himself to get into a drawer, took some papers and left, leaving behind a butt of a Cuban cigar. I believe Mike Honeycutt was the floor director (what we now call stage manager). He soon attempted to go to the mobile unit parked in the Rose Garden to say that we were ready. He exited the office through a door at the opposite side of the office from the veranda and went down the hallway to exit. His only problem was he turned right too early and opened the wrong door. There he was in the middle of a cabinet meeting. To this day I don't know why he wasn't shot. I remember the Secret Service guys were very unhappy.



So many great people in the production training program…. Bernie Osborn, who later became an executive at ABC. Norman Gorin who later became a 60 Minutes producer. Bill Linden, a Princeton graduate who was a top news director at ABC and CBS. Mike Hardgrove who ran a PBS station in California. Butch Patnode, later an ABC director and W.P. Fowler also an ABC director. Mel Wertz, also with ABC, Charlie Stone whose life was ended much too early. Mick Colgan, who replaced me as director of The McNeal/Leher Report on PBS, a job I had while working for CBS & ABC. Mick was killed by a drunk driver in a tragic auto accident on The West Side Highway. Rick Sharp, who joined me at CBS Sports. His promising career was cut short by a heart attack while playing tennis in Wilton Connecticut, where we both lived. Arnie Collins, Eddie Colbert who married Judy who did continuity. Woody, Steve and a kid from Baltimore named Barry Levinson who really wanted to work in LA. And there are so many more.



Then Larry Israel and company entered the picture. I really don't remember him personally, but if judged by some of the people he brought to WTOP, their actions and their unnecessary cruel treatment of people, his legacy is an adverse one at best. Looking back so many years later with a great deal of experience under my belt, I understand that change of staff in the business is a matter of when, not if it will happen. But good people who dedicated their lives to WTOP were dismissed like yesterday's newspaper. The sad part was the way in which it was done. A case in point: I believe that the program director who had a great reputation nationwide and a man I never heard a disparaging word about either personally or professionally found he was dismissed when he came to work to find his personal articles packed up in boxes outside of his office door. And that is just one example.



I remember that WTOP had a very attractive profit sharing plan. I had about $17,000 in the plan that I could get if I were let go. At that time that was a lot of money to me and a great incentive not to quit. I knew I was eventually going to be fired just as was just about everyone else who was there prior to the coming of Larry Israel and company. Some things were obvious, even to a young kid who knew a lot less about the business than he thought. I remember the "In memoriam" list posted outside the cafeteria, and how it grew each day. I looked for a new job and got accepted at KTLA in LA producing and directing their sports coverage. I even put a binder down on a home in Sherman Oaks. Only one problem….I wasn't getting fired, thus not getting the much needed $17,000. Finally, one Friday, I got a call from KTLA saying that I had to make the move then, that they could no longer hold the job for me. I went to the office of Ray Hubbard to resign.

Any way, Ray, who dropped off my radar screen decades ago, was one of Larry Israel's cronies. I walked in the door of his office, and before I opened my mouth to resign, he started to berate me, telling me that I could never be a competent director or producer – that I could never make it in the business. He then told me I was fired. I could not believe my good fortune! With delight I asked when I would get my profit sharing check. He told me that he just changed the rules, that I would get nothing. I immediately left his office, dejected over the wasted months while putting up with the ill-treatment along with so many others. I placed a phone call to Edward Bennett Williams, the prominent attorney and president of the Washington Redskins. He had become a friend because of my relationship with the team. Ed said "Don't worry about it. Sit tight and I will get right back to you." A few minutes later Ed called to say "I just talked to Kay Graham and you will get the money – no problem." I guess Ray's time as a rule maker had expired.



The following, Monday as I was packing to leave for LA, I got a call from Bill Fitts, the Executive Producer of CBS Sports. He said he heard that I was leaving WTOP & he had arranged a position for me in New York, I never went to KTLA. I often wonder what my life would have been like if I did.



As far as Ray whatever is concerned, I wonder what he is doing now. I could give him a job dusting the 14 national Emmys I have been awarded while not making it in the business!



Enough of the negativity, for there are too many good things to look back at during our days at channel 9.



I can truthfully say that I am proud to say that I was a very small part of the greatness of it all.



I have reflected back over those years, most often when I hear about the passing of an old friend. Newsman Don Harris, Sportscaster Bill McColgan,, Mic Colgan, Charlie Stone, Bill Linden, Will Jeffrey, and Hal Walker .



I was searching the internet attempting to find out where I could send a note to Hal Walker's family. Goggle sent me to Lee's site. How strange and sad that was. Finding out that Julian Barber and Eddie Gallaher also had passed away recently along with Ranger Hal, and Norm Hicks. The experience really started me thinking about the past. I am almost afraid to ask about the others.



It is strange how the people and my experience at WTOP have been so much a part of my career even today. When I left there I must admit I was pretty inexperienced in the over all scheme of the television business. Nevertheless, I can truthfully say that there is not one show I have done in my career that I have not relied on some aspect of what I learned at WTOP. I have been fortunate to have been able to direct and produce sports, news and entertainment on the network level. Very few can say that, especially when you factor in the vast number of programs I have been lucky enough to be a part of in each category. I am not tooting my own horn, but am stating that the fact my career has been so varied is a tribute not to me, but to the education I received at WTOP. I remember that in a period of about a month or so at channel 9, I directed a baseball game, a football game, a ballet, an opera, a Charlie Byrd Concert, The National Gallery Symphony Orchestra, and a bunch of news programs. Not bad for a kid who had little idea what he was doing. The trick was that I listened to the people around me at WTOP who did know what they were doing and admittedly got some credit I didn't fully deserve. What and education! One could not pay for that at any price.



The sad thing is that so many of us have not remained in touch. Perhaps we should have listened closer to "The King", Julian Barber when presenting the toast at so many going away parties.



"Meet new friends, but keep the old, for they are silver, but these are gold."



It is good to hear from my old friends once again.



Let's stay in touch.



Duke Struck


........Thanks Duke. I couldn't have said it better myself. I think there were about 50 to 75 people fired (or deliberately made mad enough to quit) over a six month period. Strangely, (Yeah, right), there was nothing in the Post at the time about the big "shake up" at WTOP.

We were not perfect by any means, but to fire everybody....from top management (and make no mistake about it....having LBJ appoint John Hayes as Ambassador to Switzerland....was Kay Graham's way of getting rid of him)..to the"on the air" people ...to everyone in the mail room.......

That was a bit sick!


I'm still not sure who should receive the Pol Pot of Broadcasting award for that. It's probably a toss up between Kathryn Graham and Larry Israel. -Lee


(Speaking of social events.....look what I found:)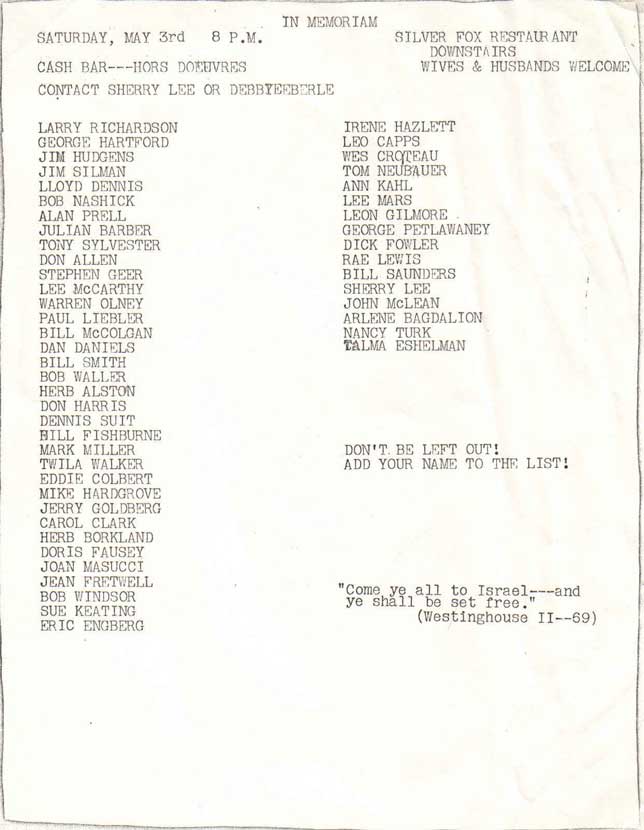 Here's where I just throw stuff I come across at the "digital wall" in no certain order....and a lot of it untitled, because frankly most of the pictures don't have names and dates on them.
Here we go: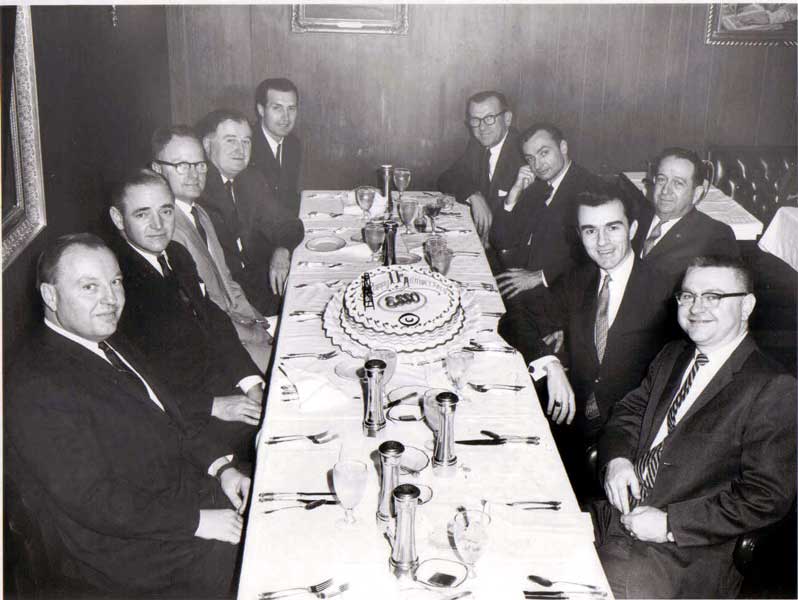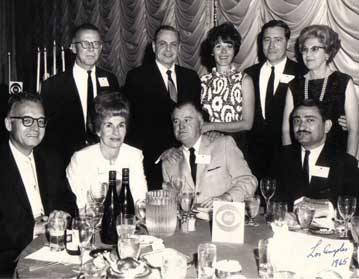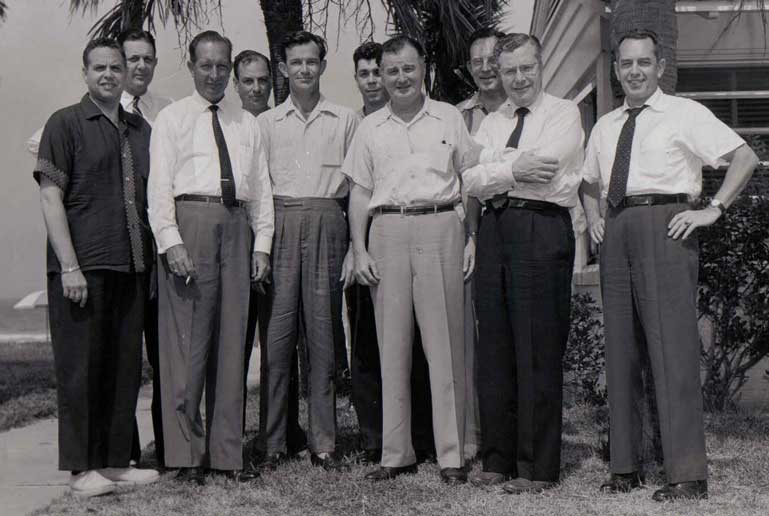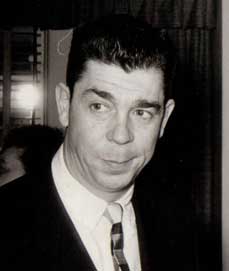 Larry Richardson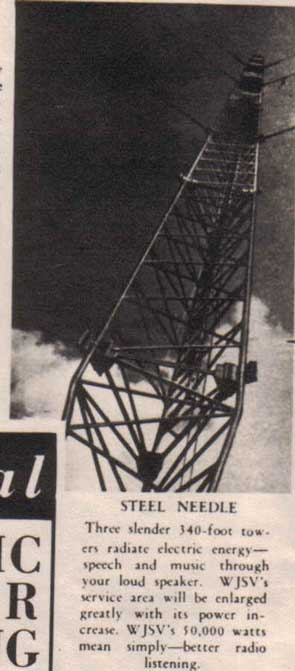 From 1940 Wash Post Ad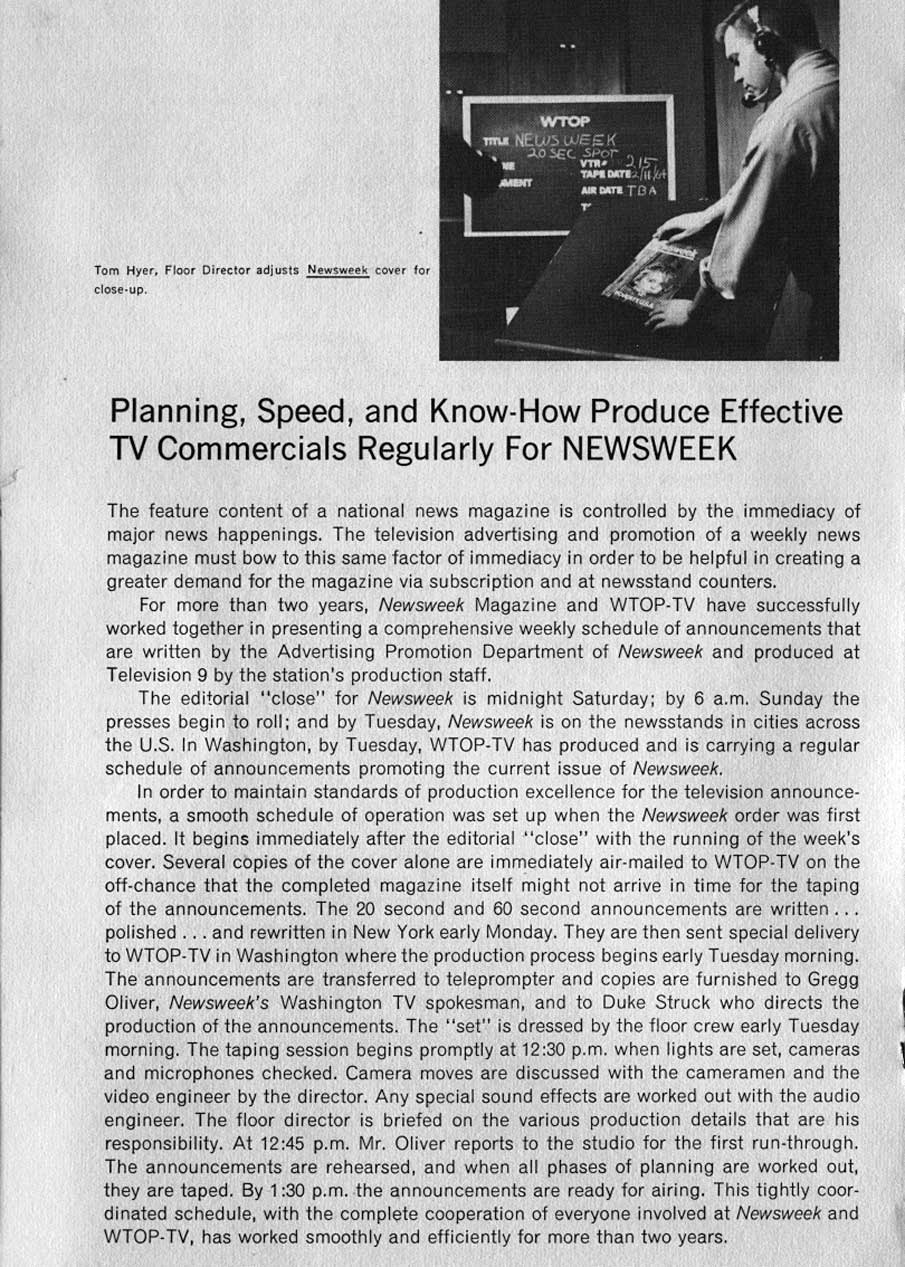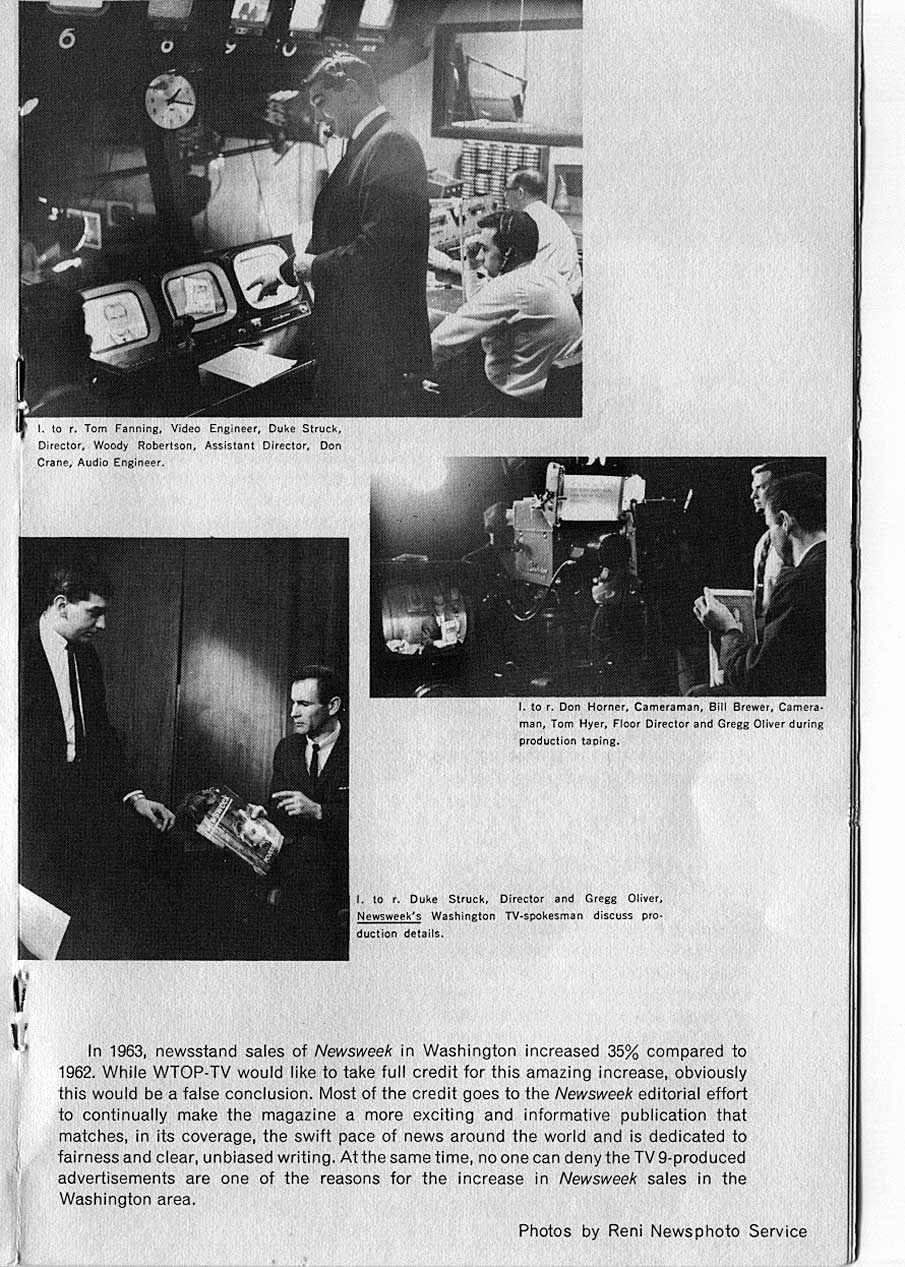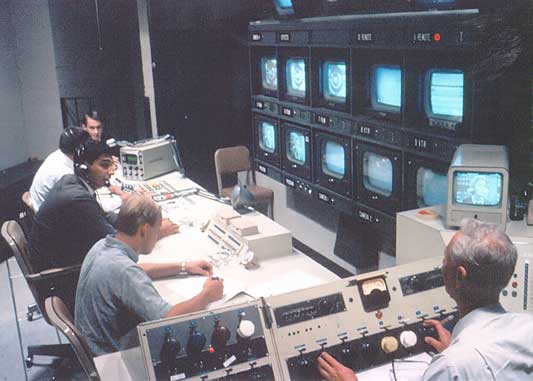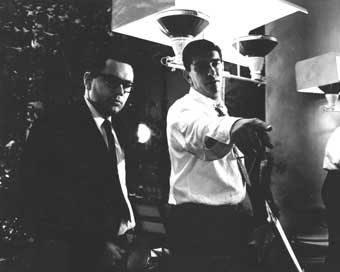 Mike Hargrove and Duke Struck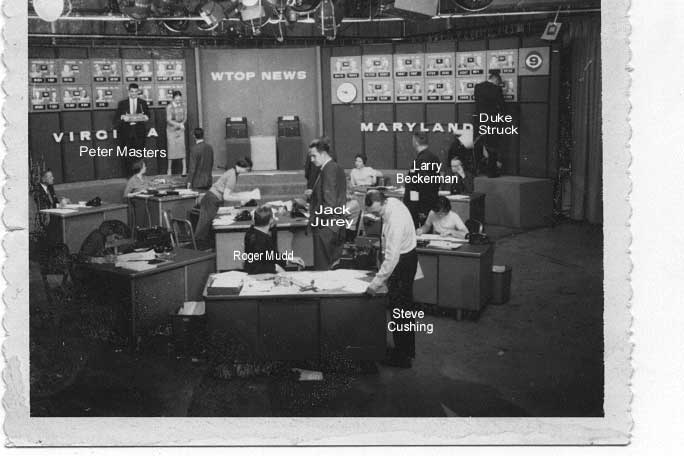 Charlie McKinley on camera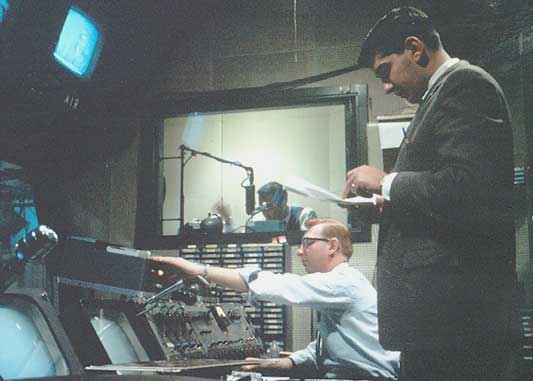 Yours truly in the anncr. booth. Saying "Television 9, Washington" every 1/2 hour was not an easy job!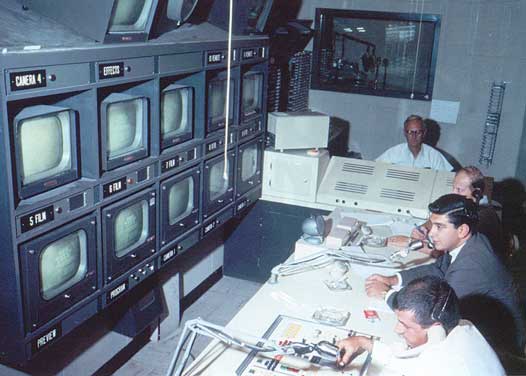 TO BE CONTINUED...(work in progress; I'm waiting for YOUR pictures -Lee)


We've Got MAIL!

Hi Lee,
I don't know if you remember me but I was at WTOP back in the mid 60's and
Gary Nunn (now a colleague at ABC Radio Net as business news editor) turned
me
on to your website. Great that you're keeping everyone up to date on the
comings,
and sadly goings from earlier times. Sad to learn recently of the passing of
Eddie, Julian and Hal.
I've been back to Washington now and then, but mostly in connection with
ABC doings. Gary showed me a copy of "Reruns," and it was great to see
a few names there from my time at WTOP including Doris Fausey and Don
Richards.
I remember when I left 'TOP in '67 for WNEW in New York, so many nice people
turned out for a Going Away Party, believe it was at "The Silver Fox." WTOP
was such a wonderful family back then...I still see Sam Donaldson
occasionally
and occasionally do a guest shot on his radio show. Bob Windsor and I are
in contact (he's living in the D.C. area) I re-married a couple of years
after
leaving WTOP...and it's been a keeper, my wife Lorraine Diehl is a writer,
did a terrific little book recently on the old Horn and Hardart Automat and
before that "The Late,Great Pennsylvania Station." She's now working on a
book due out next year on the history of the New York City Subways (the 100th
anniversary is next year) I stayed at WNEW for a couple of years then went to
the ABC Radio Network in '71, and I'm still there altho in the late 80's I
switched
to strictly Entertainment News. It's been a fun beat, interviewing celebs,
doing
a daily entertainment show and movie reviews too. I'm 63 now...I suspect
I'll
sign on for another 3 year contract next summer (if they'll have me) Hey Paul
Harvey is amazingly still at it, and he's 85 now...I believe Mike Wallace is
about

to or already has turned 86.
How about you my friend? What have you been up to in these later years?
Have a peaceful and restful holiday season...and keep that "blogspot" alive!!!
Bill Diehl



New News of Old Friends
From Walt Starling
Legendary
Mac McGarry
celebrates 42 years as the sole host of "It's Academic", the longest running quiz show in the world (Guinness Book). Mac started at WRC AM in 1950 and "It's" in 1961. He is a founding member of WQCB.
John Holliday
is back at work with ABC Sports and the University of Maryland Terrapins after successful surgery earlier this year!
Scott Woodside
of Elliott & Woodside fame was heading to the Atlanta airport to attend the funeral of his father in Savannah. He felt very short of breath and called 911. At the hospital they discovered two blood clots in his lungs. After a few touch and go hours and days, Scott is now recovering in the hospital. Scott's father was buried Monday, November 23.
COZY INN 2003
The Thurmont event was GREAT! Several people told me that their entusiasm has been renewed..... they believe that Thurmont will continue to be an annual tradition for many years to come! Admitedly, last year the weather was lousy.....and the turnout was less than inspiring...and frankly, a few of us feared that maybe the steam was coming out of our collective enthusiasm. But after this year's luncheon/reunion.............all doubt has been removed! Thurmont lives!
THURMONT 2003
COZY REUNION- OCTOBER 22, 2003
It was a beautiful fall day in Thurmont this year for our annual luncheon! Turnout was rather spectacular. According to Doris Fausey the people attending were:
Rick Armstrong
Harriet Arshawsky
Gene and Frances Beall
Buddy Belote
Harold and Margie Bloom
William Calder, Jr. and 3 Guests
George Catron
George and Mary Dewees
Donna and Earl Dunmeyer
George and Despena Eptamenitis
Royce and Doris Fish
Emil and Hazel Franks
David French
Stanley and Harriet Guttenberg
James and Barbara Hannen
James and Margaret Hargreaves
Donald W. Herr
Verna L. Horner
Chuck Langdon
Peter and Alice Masters
Allan McConnell Jr.
Kline H. Mengle
Peter O' Reilly
Kevin Rafferty
Don Richards
Lee Shephard
Jimmie Silman
Paul and Bea Stottlemyer
Mary Jo Taylor
Ernest Tobin and Guest- Catherine Sollers
Hal and Diane Walker
Sean and Flora Ward
Richard Webb
John and Donna Wilcox
David and Thelma Zarin
Tony and Betty Zukas
Doris and Bob Fausey
Ernie Bauer
I think most of these folks were there, although there may have been a couple who signed up but were not able to make it at the last minute.

SNAPSHOTS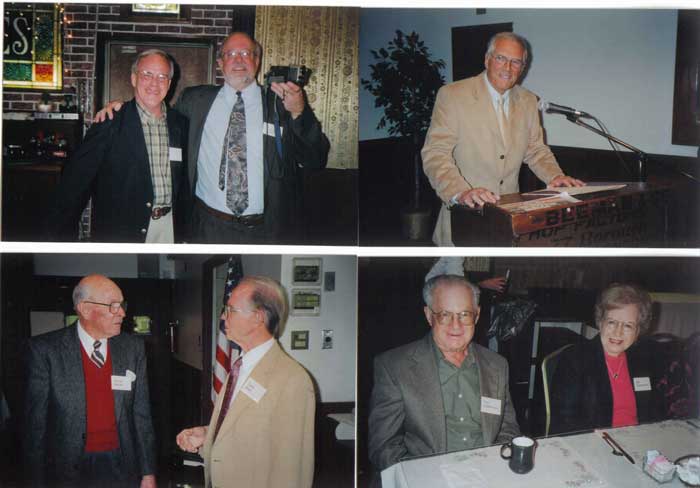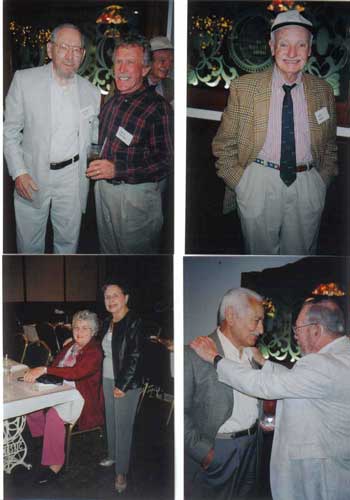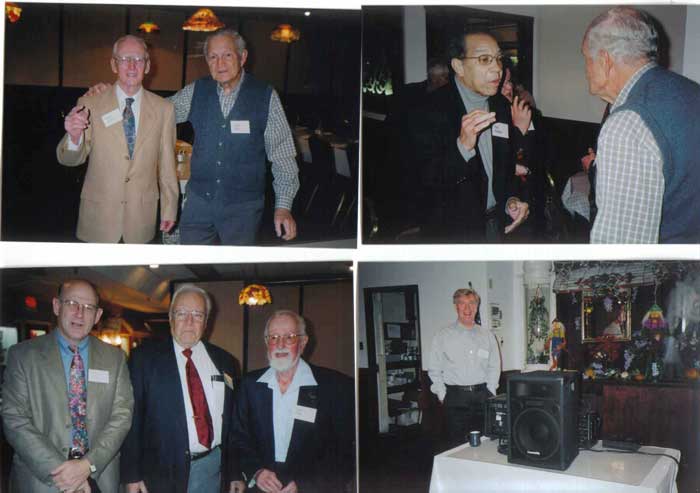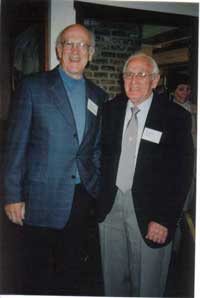 As usual, I got to talking and missed getting pictures of everybody.......if any of you got good shots of folks I missed...send them to me, and I'll put them up here.
Sounds of the past
I've gotten some nice compliments, regarding the segment of our luncheon that I pieced together. Thanks for the "flowers," but all the credit must go to Richard Webb. For those of you who were not able to get to Thurmont this year, the presentation consisted of actual recordings of channel 9 station breaks and movie intros (mainly "Shock Theatre") from the 60's; sounds that no one ever expected to hear again. How they came to be preserved...........is the rest of the story, as Paul Harvey would say:
A 15 year old horror movie fan.....in Ashland, VA....would sneak downstairs on the weekends when his parents had gone to sleep. He not only watched the movies, he recorded the audio with his small home recorder. It was't long afterward that he became less of a horror movie fan.......and MORE of a Don Richards fan. Don's subtle "goofing" of the intros and outros of the movies, and the late night antics (supposedly "off mic") of the engineers....keep him glued to late night TV on weekends. Later he entertained his friends with recordings of some of Richard's funniest bits. ..creating a number of new Don Richards fans, many of them in Texas when Webb was serving there in the Army.
Last year Richard Webb discovered this website......and contacted me. He said he still had all those tapes and did I think anyone would be interested in hearing them. Well, there were a lot of us who enjoyed hearing them. It was pretty dramatic hearing the voices of Hal Stepler, Ted Miller, Dave Campbell, John Douglas, Greg Oliver, Dennis Owens (yes, Dennis Owens introducing "Shock") ...and of course the humor of Don Richards.
So, thanks, Richard Webb. What a nice suprise from the past!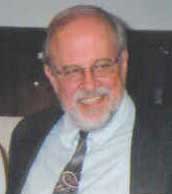 (PS.....and thanks to Chuck Langdon for bringing along his PA system! The Cozy Inn has GREAT food........but a lousy PA system. It's probably OK for Karioke.........but not for a room full of radio and TV professionals.)


Collectors Item
I came accross this on the internet. Buddy tells me that Melissa's little girl has already broken all of her mama's swimming stats.......when mama Melissa was her age! There is
something
about those Belote genes..................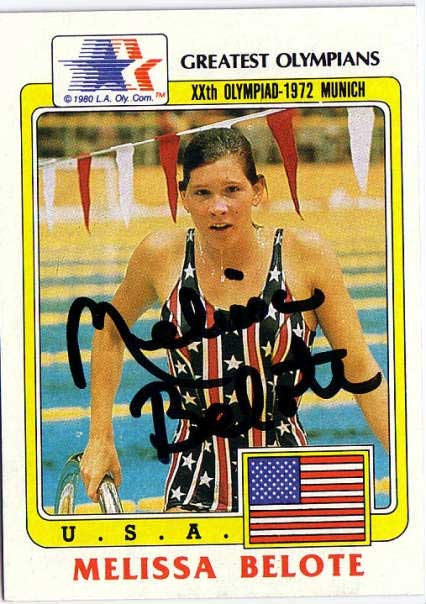 Jack Jurey
Several of you have mentioned the omission of one of the important mainstays of WTOP-TV in the 60's, Jack Jurey. Jack wrote and delivered the on camera editorials (which was not that common in local TV back then) for Post Newsweek Stations....which were aired several times a day. Frankly, the only reason Jack's picture was missing was.........I didn't have one. That has now been corrected....thanks to Philamena, Jack's wife.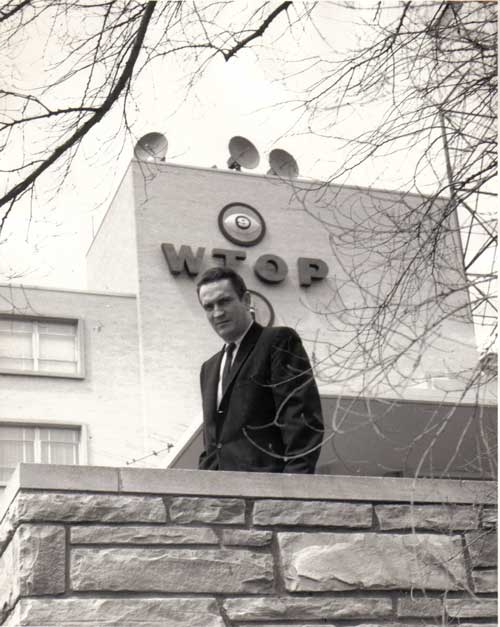 Jack Jurey
Jack joined WTOP Radio and Television in 1958 (he had been
labor editor and editorial writer for the Youngstown Vindicator and
before that was news director of WKBN radio in Youngstown). He
originated the WTOP editorials, which he broadcast on both radio and
TV, and he won a number of awards. In 1963, for the editorials, the
Radio Television News Directors' Association Award. His editorials
from his two-week fact-finding trip to Vietnam won the Sigma Delta
Chi award for the station for distinguished service in journalism.
Other awards were local Emmy awards for documentaries, including
"Dialogue with Whitey," which was done after the Washington riots on
the murder of Martin Luther King Jr., and "Conversation with a King,"
an interview with King Hussein of Jordan immediately after the 1967
mideast war. In addition to the editorials Jack was news editor
(under Ed Ryan) and then news director.
TRANSMITTER
You've got to see this. This is a page from the greatest radio site on the web! Take a look:
WTOP TRANSMITTER
Those fabulous pictures were found on the
DCRTV
site. Its creator is Dave Hughes. You will find almost ANYTHING you ever wanted to know about local radio and TV on this site. Prepare to be amazed!