Our Hollywood Reporter checks in......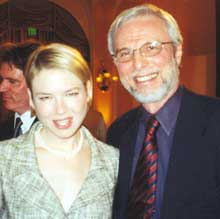 Renee Zelwegger and Bill Diehl




That's right, our very own Bill Diehl, who has made quite a name for himself covering the entertainment scene for ABC news heard about us from Gary Nunn, another famous graduate of the WTOP School of Broadcasting. Gary just happened to pull out a copy of the latest Buddy Belote "Re-Runs"........and.......well, scroll down a bit......and read the rest........



Do You Know?



I got a letter that asked a couple of questions that I'll bet someone out there in radioland....will know:



Hello: My name is Wayne Thomas. I am a 49 year old native Washingtonian who grew up listening to WTOP. My mother always had it on in the morning while getting me ready for school. I'm an avid old time radio fan as well. My question is this: do you remember a hymn that WTOP played every morning? I believe that it may have been Bless this House by Perry Como but I'm just not sure. Also, whatever happened to Claire Beach? I believe she worked on local TV during the early sixties. That's it for now. You have a great website. I'll keep checking on your progress.



Wayne



I'd like to know the answers too. Email me if YOU know. lee@ceoexpress.com



DID You Know...............



....that you can buy WTOP-TV underwear?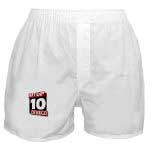 When I saw this on the internet, I thought I was having a Flashback......and would wake up on the floor of the Lodge, or the Silver Fox or Maggies...........(Lawdy Miss Clawdy....I miss those hangovers!)



But this is for real! I'm always the last to know...............nobody told me, but I've deduced that after WTOP-TV was no longer the name of Channel 9........somebody else picked it up. In this case, it appears that some college station in Oswego, NY....is now WTOP-TV.



That gave me the idea that perhaps the internet domain name, WTOPTV might still be available. It was. So, now you can get to this site by simply typing in www.wtoptv.com.........and get right to it. Of course, if you have bookmarked this site (lookoutlee.blogspot.com) or have memorized that somewhat awkward address....you can continue to access it that way as well. It just makes it easier to tell people to go to wtoptv.com.......when you're giving them the address of this site.