JULIAN BARBER

By Lee Shephard

November, 2003

It was a sad month indeed for the old WTOP family. We lost three of our biggest stars in a matter of a few days.
I've recieved a number of nice letters regarding the information that I put up here on this website about our losses. Thank you.

I've posted a few of them. Scroll down a bit....and take a look. You'll enjoy them.

By the way, I noticed that some of the older posts mysteriously disappeared. I've put them back up, so if you wondered where some of the old pictures went......well, they're back. But to find them...you have to scroll down almost to the end. But, I think it's worth the trip.

-Lee Shephard

JULIAN BARBER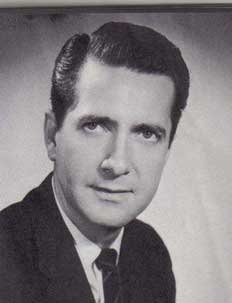 Three time Emmy Award winning Washington, DC anchorman, Julian Barber, died of congestive heart failure at his home in Alexandria Wednesday, November 12. He was 75.
Barber was born in Charlotte, North Carolina and began his broadcasting career in 1949 at WSTS in Southern Pines, North Carolina. From there he went to WAYS in Charlotte.
From 1950 to 1952, he served in the Korean War as an Army war correspondent for the Far East Network. In that capacity, Mr. Barber broadcast the first official messages on behalf of General Matthew Ridgeway to enemy Korean forces during the UN armistice negotiations.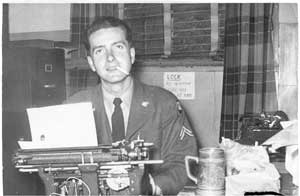 After receiving an Honorable Discharge, he accepted the job as news director of WGIV in Charlotte, NC and then moved up to a position as an anchorman at WSJS-TV in Winston-Salem, NC.
He came to Washington in 1956 and began a 15-year career as a television correspondent and anchor at WTOP-TV (channel 9) and WRC- TV (channel 4).
For 11 years Julian Barber was the top-rated TV news anchor in the Nation's Capital. He hosted Washington's first hour-long TV news program as well as hosting weekly interview programs, special event programming, documentaries, and political debates. He also made numerous personal appearances as Washington's most outstanding and best-known television personality.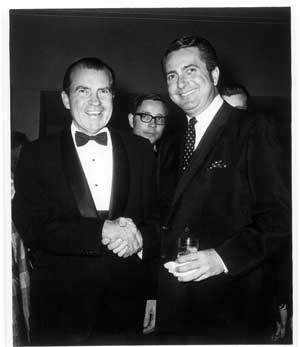 Julian Barber received three Emmy Awards from the National Academy of Television Arts and Sciences as top anchor.
After leaving Washington in 1971, he continued his work as a correspondent and anchor at WBBM-TV in Chicago. He returned to Washington in 1974 as an anchor for the Mutual Broadcasting System.
He served as Senator Harrison "Jack" Schmitt's (R-NM) press secretary from 1979-1983, then as a Special Assistant to the Assistant Secretary of Defense until 1990.
Barber retired from the Small Business Administration in 1995.
He is survived by five children, nine grandchildren, and one great-grandchild.
. A memorial service will be held on Friday, November 21 at 2pm at Aldersgate United Methodist Church, 1301 Collingwood Rd, Alexandria VA. He will be buried at Arlington Cemetary at a later date. Julian's children are: Robert Barber, Marguerite Barber, Melanie Fagan, Tamatha Hickman and Justin Barber.
Julian (R) at Thurmont in 1999
He was one of the first and finest TV newsmen in the country. He was also the funniest man I ever knew.
By Lee Shephard
I first met Julian in 1953. He had just returned from serving in the Army in Korea. Prior to being drafted into service he was an up and coming announcer/dj at WAYS in Charlotte, North Carolina. Julian's evening record show was extremely popular among Charlotte's teenagers, because it was a "dedication" show...something new at the time. (You know, "this one goes out to Ann.....from Ed......who thinks she's cute...." etc.......)
When he returned from the war, WAYS..........said they didn't have a job for him anymore. (I think that was illegal, but Julian didn't fight it, he simply went to another station in Charlotte, WGIV, and got hired there as the "news director." (WGIV was started right after WW2 by a couple of Army veterans. The call letters stood for WE ARE GI VETERANS. So the little station was a perfect match at the time for Julian.
WGIV "sounded" big on the air, but it was a very small station, a thousand watt day-timer. The only place where there was room for the AP wire (remember those old clunky teletype machines?) was in the bathroom. So that's where they put it. Julian often said that It gave new meaning to "And now, a bulletin from the WGIV NEWSROOM.
"


It's not often that you get to meet your hero, much less work with him and get to know him. I was the high school DJ at WGIV when Julian joined the staff as news director. I had admired him from afar for quite some time, but to be in the same studio and watch him work, was a thrill this 15 year old radio wannabe....will never forget. My father got to know Julian too, because since I was underage I had to be driven back and forth to work. My dad once said to me that I would meet all kinds of people in the radio business, but that I wouldn't go wrong if I patterned myself after Julian Barber. And he wasn't just talking about broadcasting. Julian was a man of great character. And of great humor! It was rare when he didn't greet you with some kind of truly humorous story, or a laugh out loud slant on some mundane subject. And he was NEVER at a loss for words. I have seen him eloquently praise people he thought deserved it, totally off the cuff, bringing the audience almost to tears...without using a single note. Last time I saw him I told him that he was my hero when I was 15 years old.....and frankly, he still was. Julian's response was, "well that just proves that you don't have any better sense now, than you did 50 years ago."

Julian once told me that his love for broadcasting began when he was a young boy and his uncle let him sit in the press box at a baseball game.........while he broadcast the game. His uncle was a pretty good broadcaster too. His name was Red Barber.

-Lee Shephard


JULIAN BARBER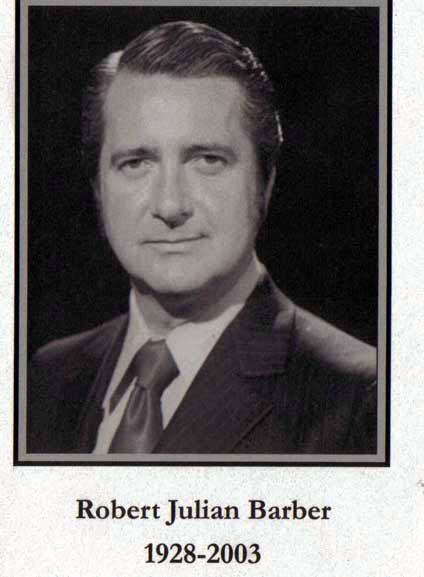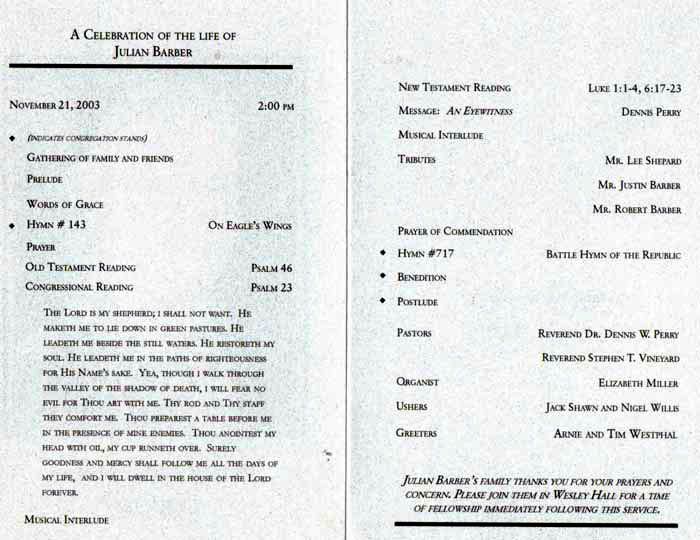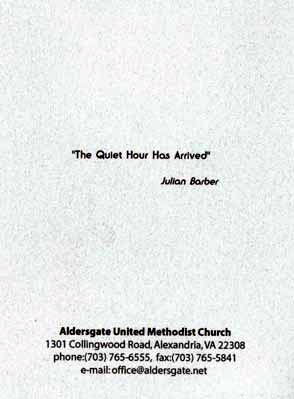 The memorial service was held today in Alexandria for Julian Barber. It was beautiful. If you weren't able to make it, you missed seeing Julian's pride and joy...his family! A Hollywood casting director would have a hard time finding a better looking family! His beautiful wife Suni designed the program and unfortunately this electronic medium doesn't do it justice. I love Julian's quotation on the back, "The quiet hour has arrived." Suni tells me that those were the magic words he spoke when he arrived home from work....when the kids were a little young...and occasionally rowdy.
Julian's son Justin moved the congregation to tears, reading one of Julian's favorite tributes, a "last letter," written by a civil war soldier to his young wife.
His son Robert and grandson, Robert Julian Barber the fourth, read a letter from Julian, that he had requested be read at this ceremony.

How Justin and the Barbers 3 and 4 did it......and maintained their composure, I'll never know.

It was one of the finest honors I've ever received.....being asked by the family to say a few words at the service. My words, or anyone elses, could not have begun to do justice to such a rich legacy as that which Julian left.

-Lee